About Us
President's Welcome
Dear Traveler,

Destinations Ireland & BEYOND invites you to sample some exciting and innovative itineraries that have been designed with the discerning traveler in mind. As a leader in custom designed travel to Ireland & beyond for over 20 years, we have the experience and expertise to accommodate even the most discriminating traveler. Our dedicated team of travel experts can design a group tour for families traveling together or special interest groups that may include literary, historical, ancestral, culinary and garden themes. When traveling with Destinations Ireland & BEYOND, you have the comfort of knowing that our overseas offices are always ready to assist you should a need arise. We offer all of our clients Concierge Service while travelling.

Let Destinations Ireland & BEYOND be a part of your next vacation. Our attention to detail creates a worry-free travel experience.

Please accept our invitation and join us.
Sincerely,


Declan O'Brien, President
Destinations Ireland & BEYOND
Our Services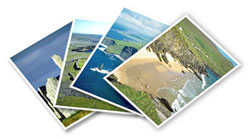 For more than 20 years, our travel experts have been helping clients create the ultimate custom designed tours to Ireland and beyond. Our dedication to each and every client is unsurpassed. Our passion is matched only by our attention to detail and our pursuit of excellence; we aim to create the perfect itinerary for each and every client. Allow Destinations Ireland & BEYOND to create your next dream vacation. For your free vacation itinerary request – click here.
Chauffeured Tours
On a Destinations Ireland & Beyond Chauffeured Tour you can relax and enjoy the scenery while your driver navigates. Enjoy an insider's advice on the best shopping, places of interest, pubs and restaurants as well as off-the-beaten-path gems that define a trip long after you've returned home. Did we mention you might hear a tall tale or two along the way? All chauffeured tours include private transfers on arrival and departure, deluxe accommodations, full breakfast each day, all local taxes and service charges, handling of bags and sightseeing, and a variety of cultural activities. Our concierge is at your service to make on-the-spot changes, arrange theatre and dinner reservations, book additional golf rounds, change or add hotels, and do myriad other services while you are travelling. "Can you afford to go any other way!"
Private Group Tours – Your group can do it all!
Experience the thrill of traveling with family or friends in a private luxury coach, complete with every modern comfort. Rent a castle or country house to accomodate multiple generations. Whatever you choose, let us take care of all the details. All activities will be arranged in advance, however, each tour comes with the flexibility to make changes and add other activities. Your group can alternate days, playing golf or hiking one day, and cycling or fishing the next. Visit historic castles, gardens, ancient sites and pre-historic forts; or research your ancestry. Afterwards relax in warm and inviting traditional pubs, enjoy fine dining, and experience local culture and music. Some tours we have created include family reunions, gardens, museums, literary & historical attractions, ancestral research, choral and religious sites as well as sporting tours. Call our group travel department directly at 1-800-832-1848.
Self Drive Tours – For the Independent Traveler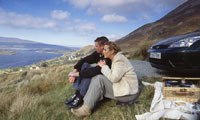 For those of you who have the spirit of adventure and want greater flexibility, perhaps you would like to drive yourself. (Remember, in Ireland and the UK, we drive on the left!) We will provide all of the maps and information you need. Through our customized itineraries, we can suggest where to stop and what to see. From small compact cars to luxury sedans and large mini-vans, we are happy to arrange the right vehicle, with unlimited mileage, VAT tax, and collision insurance. All tours include full breakfast each day and all local taxes and service charges. Keep in mind that we include private transfers on arrival and can have your car delivered to your hotel when you are ready to "hit the road" as it were. Our Concierge Service is available to book additional arrangements while you are traveling. Keep in mind, you are our guest.
Destinations Ireland & Beyond – Corporate and Incentive Travel
Destinations Ireland & Beyond has a highly qualified team of travel experts in both the U.S. and Europe. If you are thinking of that overseas motivational event for your client or sales staff there isn't a better time to plan an exceptional itinerary. Through successfully delivering worry-free luxury travel to thousands of American vacationers, Destinations Ireland & Beyond continues to succeed in meeting and exceeding expectations.
Helicopter Service – Your time is valuable!
Many of our clients enjoy being whisked away on arrival at the airport to enjoy greater flexibility in less time. Many areas of Ireland and Scotland provide superb sightseeing but are difficult to reach on the ground. If you prefer to stay in fewer hotels with less packing and unpacking we can arrange helicopter service from any location. For those who want the maximum experience with minimum time available, traveling by helicopter is the answer. Reach far-flung golf courses, enjoy spectacular sightseeing or simply arrive in style!
Hotel Accommodations
The staff at Destinations Ireland & Beyond takes great pride in hand-picking and approving the hotels that we use for your enjoyment and comfort on each and every tour. Why not enjoy a luxury stay in a fabulous manor, stylish country house or luxury castle. Our accommodations are selected for their superior service, warm and friendly staff, superb locations and fine cuisine. As our guest you can be confident that we will custom-design your itinerary with delightful and very special accommodations.
Ground Transportation
Practically all of our tours, self-drive and chauffeur-driven, begin with a private transfer on arrival from the airport to your hotel. Whether you choose a self-drive tour or a chauffeur driven tour, you are always assured that your transportation vehicle will be first class. We insist on current year models for all our rental cars. Your chauffeured transportation, depending on the number traveling, will range from Mercedes saloon to a luxury mini-van. All private family and group tours enjoy the comfort of VIP luxury coaches that include all modern conveniences. We custom-design to suit your needs.